Wet Pour Surfacing
Our wet pour impact absorbing surfacing is designed to offer maximum safety performance with high durability and cost effectiveness. We are one of the leading wet pour suppliers in the UK for all project types, playground, sports courts, splash parks, schools, local parks and more – we can help you with your wet pour surfacing needs.
The wet pour surface construction is formulated from rubber granules and polyurethane binders. The surface consists of two layers: a base layer of coarse black granules made from recycled tyre rubber, and a coloured top layer of much finer rubber granules. Our wet pour surfacing can be laid as part of a new construction, usually be laid onto a dynamic crushed stone layer, it can also be laid onto existing hard surfaces. We know how important it is to use environmentally friendly products so we are pleased to be able to offer wet pour surfacing as a solution which meets these requirements.
Tested, Safe Surfacing
Our wet pour surfacing has been fully tested to BS EN 1177:2018, we want you to feel safe in choosing a surface, especially within a play or playground setting and this European standard dictates what depth of impact-absorbing surfacing is required for different heights of play equipment. We can help and advise what surfacing is needed for fall heights on your playground equipment so please speak to us.
We have provided wet pour surfacing in hundreds of nurseries, playgroups, primary schools, secondary schools and even golf clubs, care homes and community parks. Please check out our case studies for our latest wet pour playground projects.
As each project is different please contact us for a price.
Where can Wet Pour be installed?
We have installed wet pour surfacing across a wide range of projects and locations. We install children's playgrounds regularly as this is the perfect impact absorbing surfacing protecting children from fall heights. We also have completed Splash Park surfacing such as the one shown below, outdoor gym and fitness areas and even pathways and recreational spaces.
Wet Pour Colour Swatches:

Other wet pour colours are available including combinations of standard colours. Please contact us to discuss and obtain samples.
Important note: The colours displayed here may vary from the actual product.
Standard colours are Standard Red, Standard Blue and Standard Green. Other colours shown may vary in price.
Wet Pour Surfacing Benefits:
Impact absorbing for safer play,
Noted as one of the best playground surfacing materials,
Continuous seamless surface, no trip hazards,
Fast draining so no risk of flooding,
Year round use,
Durable,
Maintenance free,
BS EN 1177:2018 compliant,
Highly UV Stable which reduces colour loss,
Environmentally friendly,
Wheelchair friendly.
Wet Pour Technical Information
Please see below for information relevant to selecting the base preparation and type of install required for your wet pour surfacing requirements.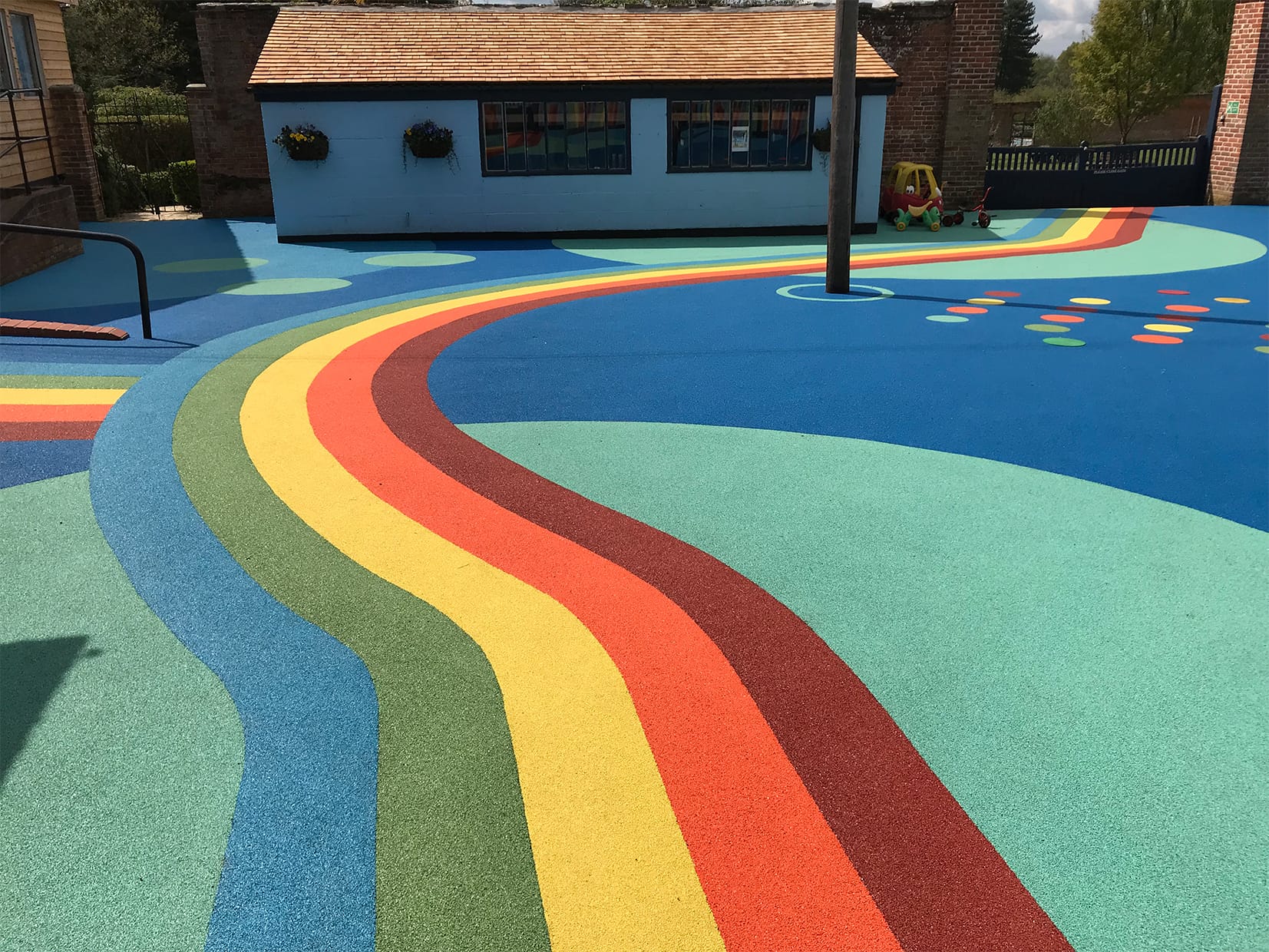 Wet Pour Cleaning and Maintenance
We offer full cleaning and maintenance packages for your wet pour surfacing. We can clean the wet pour to remove algae, moss, ground in dirt and other issues causing your surfacing to look tired and old. We help you to bring your surface back to looking its best. We can also carry out repairs on wet pour and offer DIY repair kits which are supplied with full instructions.