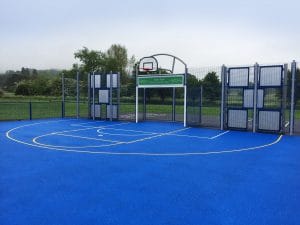 The Site:
Aston Clinton Park is situated within Aston Clinton, Aylesbury and is an active space for the local community. The multi-use games area was to be created alongside the existing local play area, providing more activities for all ages to enjoy.
A site visit, risk assessment and health and safety report was conducted to provide Aston Clinton Parish Council with the best solution to meet their needs.
The Brief:
The client indicated that they wanted the multi use games area (MUGA) to provide opportunities for older children to play football and basketball alongside some added games features external to the MUGA. The site required fencing and surfacing with a focus on brightly coloured acrylic coated tarmac.
The Budget:
£87,000
The Challenges:
The installation of this site provided a few challenges for the team. Working within a community park near other play space activities meant the public had access 24/7.
Protective fencing was installed to allow the team to work safely in the designated area, this also helped limit access and protect the public whilst the works were completed.
We focused on ensuring that the works did not have an adverse effect on the local and general environment and were completed within the allocated timeframe to minimise disruption.
Equipment Installed:
– 16m x 28m MUGA with game markings
– Heavy duty rebound fencing
– Two goal units, two basketball hoops and four game walls
– Blue acrylic coated tarmac surfacing with game markings.