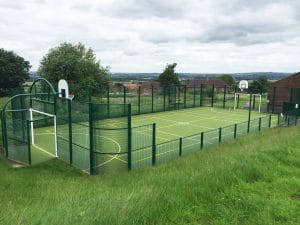 The Site:
The Ashendon MUGA is situated in a local community park to provide easy access for use and play.
The multi-use games area needed to have curved corners and provide more activities for all ages to enjoy. A site visit, risk assessment and health and safety report were conducted to provide Ashendon with the best solution to meet their needs. 
The Brief:
The client indicated they wanted the multi- use games area to have curved corners and an integral subs bench complete with a new tarmac sub-base, drainage, first fix floodlighting and multi-sport synthetic surfacing. 
The Budget:
£63,000 + VAT
Equipment Installed:
– 12m x 25m MUGA with game markings
– Heavy duty rebound fencing
– Two goal units and two basketball hoops
The Challenges:
The installation of this site provided a few challenges for the team. Working within a community park meant the public had access 24/7.  To protect both our team and the public, protective fencing was installed to limit access to the designated area.
Due to the installation being on a large slope, the existing site had to be cut and filled to create a good base for the MUGA. 
We focused on ensuring that the works did not have an adverse effect on the local and general environment and were completed within the allocated time frame to minimise distruption. 
The Outcome:
The project was finished on time and the Ashendon Playing Fields Association and residents were delighted with the new addition to their community space.