Mulchbond® Bonded Rubber Mulch Surfaces
Abacus Mulchbond® bonded rubber mulch for playgrounds is a natural looking play surface often described as rubber bark.
Our Mulchbond® is a durable and environmentally friendly safety surface containing 90% recycled rubber that enhances the green credentials and the reduces the carbon footprint of any project.
The resin bonded rubber bark requires minimal groundwork preparation and can be installed directly onto grass or existing hard standing surfaces such as tarmac. It also provides the ideal solution to tricky tree roots where excavation is a problem.
Our play area rubber mulch is fully porous and maintenance free, no costly topping up of material or regular raking required!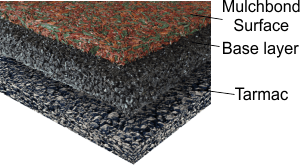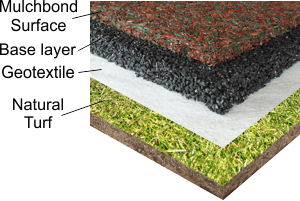 Specification
This surface has been fully tested to EN1177 (2008) for critical fall height by Labosport UK – report numbers LSUKD.13-0331 and LSUKD.13-0807.
SURFACING UNDER THE TREES
At a school in Newcastle we were asked to help find a solution for the surfacing under some trees. The area under the trees was supposed to be grass but had been suffering for some time becoming unsightly, dirty and unusable in bad weather.
With a small amount of preparation we were able to install our bonded rubber mulch to the area. This immediately solved the problem, opening up more usable space. As soon as the installation was complete the school were able to use the area the following day."
PROCESS & MATERIALS
Abacus sources only the best quality materials from known producers worldwide and full quality control procedures are in place throughout the entire process and all measures practicable are taken to ensure a good level of colour consistency is maintained.
The process encapsulates recycled tyre rubber in a tough PU polymer coloured with light stable pigments and, once fully cured, the pigments and coating are both non-toxic and inert.
The coated tyre rubber is available in two forms, shredded rubber fibres for use in loose fill and bonded rubber mulch surfaces.
The coating process not only colours the rubber but also primes the rubber bark chippings such that when the materials are mixed and laid with the final binder on site, significantly higher tensile strength and durability can be achieved. Also as the density of the rubber is around 15% lower than most virgin products the spread rates are better and less kilograms per square meter are required further reducing costs on most projects.
Playground Mulch Swatches